What Can You Expect From An All-inclusive Resort In Cancun?
An all-inclusive vacation in Cancun is one that covers all of the essentials at the price of the reservation. This includes food, drinks, activities, and entertainment as a part of the package. A truly all-inclusive vacation should never include hidden fees, allowing you to relax and enjoy your holiday without worrying about running a hidden tab. 
Transfers From And To The Airport
Nothing beats arriving at a place and knowing that your transportation and associated expenses have been planned and paid for, from the airport to your resort and back to the airport when your all-inclusive vacation is over.
Gourmet Dining And Unlimited (Alcoholic) Drinks
When it comes to picking a resort, let alone an all-inclusive resort, people will consider the quality and variety of the food there is to offer. This may appear to be a risk because you haven't had the opportunity to sample the meal before paying, but resorts in Cancun provide gourmet dining with a variety of world cuisines and restaurants to select from. Alcoholic drinks could be very expensive, especially if you drink alcohol like water, but in this case, you could drink as much as you want and whenever you want.
There are three luxury hotels in Cancun that anyone can enjoy and have an awesome vacation, either by traveling alone or with their family. These hotels have so much to offer for your value and the history behind them is one of a kind! The three that you must visit are Xcaret Arte, Casa de la Playa, and Hotel Xcaret Mexico. Of Course, you must only pick one, but once you experience staying in any one of these hotels, you'll want to go back and choose another hotel on your next vacation, but you will soon discover, they're all beautiful and amazing. If you're looking for hotel xcaret deals to these amazing resorts, we have you covered.
Hotel Xcaret Arte, is the first reason to travel to Cancun in 2022. This luxury resort is an adult-only hotel that launched in July 2021 and is ideal for a romantic trip. It offers the same All-Fun Inclusive concept as Hotel Xcaret México, but with one major difference: this hotel is entirely inspired by Mexican art, making it unique in the entire destination. 
Each room at Hotel Arte is a work of art, with each thread and design acquired locally. From the tiles painted in a small village to the artwork on the walls, which was created in Mexico and symbolizes the rich Mayan culture. 
The rooms are also elegant and make the experience personal for each guest because it has so many elements of romance, it's hard to name them all. All rooms throughout the resort include a breathtaking view outside of your window, some rooms even have a view of the river that flows underneath the balcony. Each balcony has a hammock or a place to sit, which allows guests to have a private area to sunbathe and unwind.By the way, if you're considering a trip to Mexico, you might want to look into our hotel xcaret arte deals where you can save up to 24% off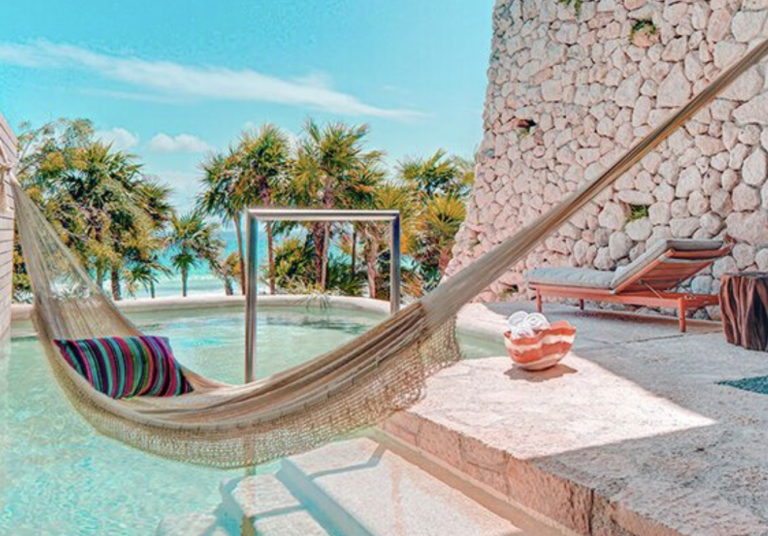 In December 2021, a new boutique hotel in Playa del Carmen opened, designed to make you feel at ease at all times. This five-star resort features 63 oceanfront suites, celebrity chef wine, dining experiences, and private transportation in luxury cars. In addition to the All-Fun Inclusive packages offered by Hotel Xcaret México and Hotel Xcaret Arte, La Casa de la Playa offers new experiences customized to your preferences and needs in Xcaret's parks and tours.
Aside from the beautiful accommodations, La Casa de la Playa also has an ocean-view library, a chocolate shop with treats from renowned chocolatier Mao Montiel, and a few delicious dining options.
You may also look forward to the award-winning Muluk Spa, which offers Mayan-inspired ancestral treatments. There are 13 spa treatment cabins, two salt rooms, two mudrooms, hydrotherapy options, a sauna, steam, and cold rooms, relaxation areas, a beauty salon, a full bridal suite, and an Alchemist's Studio where you can create your own perfume are just a few of the highlights.
The Hotel Xcaret Mexico is a one-of-a-kind ALL-FUN INCLUSIVE concept developed to make the experience as memorable as possible while providing the finest Mexico has to offer. You will have the most wonderful adventures, fall in love with the country's culture, and build memories that will last a lifetime with a truly sustainable approach complemented by Mexican hospitality.
Hotel Xcaret Mexico includes entry to all of Xcaret's parks. From the moment you step into the lobby, this sustainable hotel's eco-integrative architecture draws you surrounded by nature, delivering an exceptional experience throughout your stay. Xcaret Hotel Mexico is more than just a resort.
With 10 restaurants, Hotel Xcaret Mexico offers a wide range of gourmet plates, with a focus on Mexican cuisine. Chef Carlos Gaytán, a Michelin-starred chef, turns his craft into art while creating signature cuisine at Ha Restaurant for adventurous tourists. In eight bars located throughout the resort, bartenders and professional tasters enhance your dining experience with unique expertise. 
4. Xcaret Sailing Trip To Isla Mujeres
Isla Mujeres is one of the most gorgeous tropical islands in the Mexican Caribbean, and it's a must-see for anybody visiting Mexico. The ideal way to visit is to take a ferry from Cancun, which you can now do with the excellence that Xcaret represents. Xcaret Xailing began operating two huge ferries named "Xcaret" and "Xel-Há" sailing from El Embarcadero Isla Mujeres by Xcaret in the Cancun Hotel Zone in December 2021.
Isla Mujeres offers a tranquil respite from Cancun's fast pace and party scene across the bay. All visitors are greeted with a warm welcome by the calm surroundings, beautiful beaches, and, of course, wonderful food. Despite the fact that most visitors only stay for a short period of time, there are plenty of things to keep people of all ages occupied for several days.
This area contains the majority of the hotels and restaurants, as well as the shopping area and the town market. Visitors may walk to a nearby beach, and Playa Norte is the most well-known beach on this beautiful Mexican Caribbean island.
You have the option to purchase a round trip ticket or spend more than one day on Isla Mujeres to enjoy the beach and explore the town, purchasing a one-way ticket is the best option. You may buy a ticket back to Cancun on the island at the pier in Isla Mujeres.
5. Archaeological Tour In Yucatan With A Visit To The Tsukn Cenote
There are almost a thousand cenotes to discover, each with its own distinct charm. It doesn't matter if you've been to one in Xenotes or on other trips; they're all unique experiences thanks to the diversity of Mexico's natural paradise. You could now explore the Tsukán cenote, which would be located in Yucatán, with Xcaret Expeditions. This cenote, also known as "Sanctuary of Life," offers Maya-inspired narrative, cultural, and gastronomic experiences. On the Xichén Deluxe Tour, you simply wouldn't be able to miss it.
The Cenote Tsukán is a stop on the Xichén Deluxe Tour that you can take. On this tour, though, you will see Chichén Itzá, or "Mouth of the Well of the Itza," which was recognized as a UNESCO World Heritage Site in 1988 and was recently named one of the New Seven Wonders of the World.
Chichen Itza is perhaps one of Central America's most famous Maya archeological sites. It is the largest Maya site in Mexico's Yucatan Peninsula and one of the country's most popular tourist destinations.
6. Xavage: Cancun's Most Adventure Park Is Open Again!
Following the pandemic, which forced all of Cancun's parks and tourist attractions to lock their doors, the popular adventure park has reopened. In December 2021, Xavage reappeared, renovated with all of the 360° Safety models, hygiene, and preventive measures in place, and ready to welcome the most daring travelers once again.
Xavage appears to be one of the most exciting adventure parks in Cancun and the Riviera Maya, offering one-of-a-kind and adventurous water, land, and air activities. You'll rediscover your true adventurer and have a fantastic day. You'll also get to see a different side of Cancun in a setting where you'll have a lot of fun.
Spend a day filled with incredible experiences and tons of fun at an amazing Cancun park that has it all. You can participate in the activities as many times as you desire, and the wonderful buffet restaurant will satisfy your hunger. Xavage looks like a lot of fun, but due to the two-year shutdown, nobody had been able to take advantage of it until now. Based on the pictures and videos on the internet, this is one attraction you'll want to try. This is what Xavage has to offer, Jet Boat, Zip-line, Monster Truck, Rafting, Ropes Course, Kayaking & of course food.
7. Power Xnorkel: A New Way To Explore Xel-Ha
Snorkeling at Xel-Há is one of the most popular activities among visitors to Cancun who come to see the natural beauty that this inlet in Tulum has to offer. You will always enjoy Xel-Há no matter how many times you return, but if you want to experience something new, you must try Power Snorkel. This optional (and extra-cost) activity is a unique and exciting way to explore the inlet at full speed!
With Power Xnorkel, you can go at speeds you never thought possible underwater. You could take control and explore the waters in a private area reserved exclusively for your group. You'll be able to move freely at a high speed and make quick changes of direction in this next level of snorkeling. You'll get time for briefing and practice, a guided tour, and free time to navigate the ocean on your own during the activity.
This water park caters to the entire family, and it stands out for its all-inclusive entry and innovative water sports. It's enough to state that it's a Mexican "Natural Wonder," that the impact is virtually instantaneous, and yes, it looks like a lot of fun which I'm sure will create a ton of great memories that will last a lifetime.
8. Xplor! The Underground Expedition
Well, they say that adventures stay in our memory forever, and Xplor gives us the opportunity to create many of them. Zip-lines, amphibious vehicles, swimming in underground rivers, a hammock splash, and rafts are among them. The sixth activity, in addition to these five, is the Underground Expedition.
The Underground Expedition is a journey through an underground world within a place where you and your helmet must complete a goal. This isn't just an ordinary walk in the park, though, as you'll be immersed in the "Xplor style." You'll walk through caves and come across obstacles (if desired), as well as see 65 million-year-old rock formations. Take a ride down two slides and be surprised at every turn.
Your Underground Expedition will take you through 800 yards of varied scenery, including stalactite caverns, rivers, and Riviera Maya jungle pathways. The entire journey takes about 30 to 45 minutes, and there are three emergency exits, two water slides, picture locations, and plenty of surprises along the way. For your protection, the activity includes hosts and lifeguards. Lifejackets are not required, although you may request them if necessary. At all times you must wear your helmet because you'll be the one leading your own adventure and you'll be able to explore this adventure park at your pace.
9. Experience A Wine Pairing And Food Tasting At The Xcaret Cellar
Mexico's wine tradition has existed for almost 400 years. The first winery in the Barras Valley was founded in 1597. Today, the state of Coahuila is named after this location. If you're a wine lover, this is a must-do, and learn about Mexican wine culture. Within the colony, independence, echoes of the revolution, prohibition, and freedom, the Mexican vine has gone through various stages.
Mexico is now proud of the worldwide recognition it has gained for its wines. An industry's steady growth is gaining traction day by day. The delight with which Mexicans have embraced this product. The wine of Mexico is made from the best in our region.
Food pairings are created to maximize the enjoyment of the wines. A pairing is a connection, and a tasting pairing is the marriage of wines and foods. This serves to enrich both flavors and create a mouth explosion. As a result, this is done in wine cellars to provide the full experience. The cellar is exclusively open for pairing tasting tours and tastings for couples interested in marrying in this lovely location.
10. The Sacred Mayan Journey Returns To Xcaret 
Finally, on the list of reasons to visit Cancun in 2022, it's very exciting to say that, after a pause due to the pandemic, the Sacred Mayan Journey, which has been held in May at Xcaret for over fourteen years, is returning.
The Sacred Mayan Journey recreates an ancient Mayan ritual that departs from Xcaret and travels to Cozumel to pay tribute to the goddess Ixchel. Every year, hundreds of volunteers paddle in traditional canoes with wooden paddles, much as the ancient oarsmen did. They are ready for their journey in the open sea to reach Cozumel island after months of intensive training. Although the local communities of Cancun, Playa del Carmen, Tulum, and Cozumel participate in this event, it is also a unique attraction that tourists to Xcaret can experience.
These are just some of the wonderful things Xcaret has to offer, but there is so much more to do. It's not every day that you get to go on an all-inclusive vacation. In fact, for many people, it's a once-in-a-lifetime opportunity worth experiencing. As a result, booking an all-inclusive trip that includes everything you need and more makes the most sense. The idea is to go on a family vacation and come home totally refreshed, looking back on a once-in-a-lifetime vacation! 
Get Your Hotel Xcaret Promo Code!
If it's your first time visiting a Hotel Xcaret resort we'll get you a 24% discount off the total price.
Important Information: In order to get this discount, you have to be referred by a member(which we are), since only members are allowed to give the 24% discount rate to friends and family.(Terms & Conditions)
Not valid for a major holiday & festive weekend!
President's Day Week Feb 17 – 25th
Spring Break March 31 – April 15th
Summer Break Jul 21 – Aug 5th
Thanksgiving Week Nov 18 – 25th
Christmas & New Year's Weeks Dec 24, 2023 – Jan 01, 2024
Hotel Discounts & Big Savings Around The World!
We've partnered with Priceline in order to bring you the best prices for hotels around the world. Check out what hotel offers we have available!