A Perfect Family Getaway: Where Families with Kids Can Create Unforgettable Memories
If you're planning a family vacation that caters to the youngest members of the family, look no further than Casa Viento at hotel xcaret mexico discount! Located in a breathtaking tropical setting, this casa offers an unforgettable experience for kids with its numerous amenities designed for their enjoyment and safety.
One of the highlights of Casa Viento is its prime location next to the pool that has been specially designed with kids in mind. The pool features shallow areas, water slides, and other exciting water features that are sure to keep the little ones entertained for hours on end. Parents can relax on the comfortable sun loungers while watching their kids splash and play in the crystal-clear waters. But that's not all! Casa Viento is also conveniently located close to other family-friendly attractions within the resort. Kids can explore the family club, which offers a wide range of activities such as arts and crafts, games, and sports. The kids club provides supervised programs and entertainment tailored to different age groups, ensuring that children of all ages have a blast.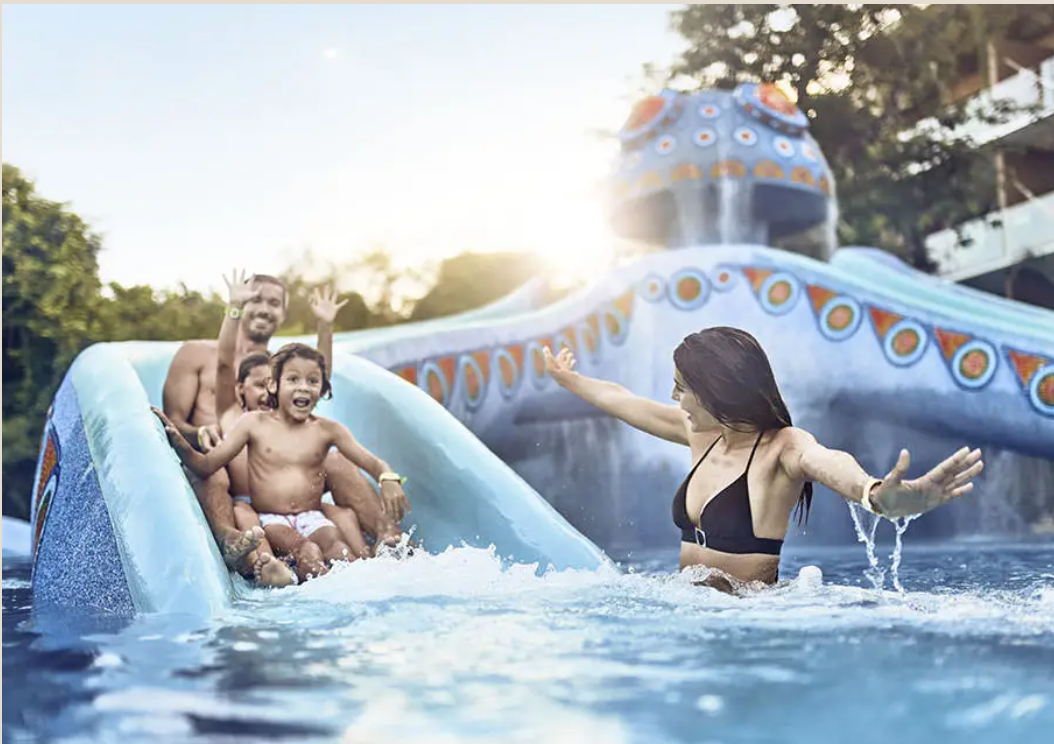 For a unique adventure, Casa Viento is also just a stone's throw away from the trajineras dock that takes you to Xcaret. Trajineras are traditional Mexican boats that offer a fun and cultural experience for the whole family. Kids can marvel at the natural beauty of the region, observe wildlife, and learn about the rich history and culture of Mexico.
When it comes to dining the Chibalí restaurant, located nearby, is a kid-friendly paradise. Kids will be thrilled with the candy station, where they can satisfy their sweet tooth with an array of colorful treats. And the delicious desserts on offer will be a hit with kids and adults alike!
In addition to the exciting amenities and attractions, Casa Viento at Hotel Xcaret Mexico also prioritizes safety for its youngest guests. The resort has implemented various safety measures, including lifeguards at the pool and trained staff at the kids club, to ensure that kids can have a fun and worry-free experience.
This casa offers comfortable and spacious accommodations that are perfect for families. The rooms are designed with modern amenities and stylish décor, providing a relaxing retreat after a day of adventure and play. Families can choose from a variety of room options, including connecting rooms and suites, to suit their specific needs.
Get Your Hotel Xcaret Mexico Discount!
We'll get you a hotel xcaret mexico discount of at least 24% off the nightly rate, in exchange for attending a short presentation while at the resort.
Important Information: In order to get this discount, please fill out your contact information.(Terms & Conditions)
Not valid for a major holiday & festive weekend!
President's Day Week Feb 17 – 25th
Spring Break March 31 – April 15th
Summer Break Jul 21 – Aug 5th
Thanksgiving Week Nov 18 – 25th
Christmas & New Year's Week Dec 24, 2023 – Jan 01, 2024
Hotel Discounts & Big Savings Around The World!
Bringing you the best prices for hotels around the world. Check out what hotel offers we have available!