Does Hotel Xcaret Mexico All-Inclusive Resort Include Discounts?
Without a doubt, the Hotel Xcaret Mexico all-inclusive should be considered if you want to have a genuine experience. This lovely resort is redefining the typical all-inclusive you've become accustomed to.
It is a dream come true to plan a vacation in Mexico. Maybe you're already picturing yourself lying on white sand beaches and swimming in crystal clear water. However, in order to make everything perfect, you must book accommodation that will provide the best overall experience.
You will have unlimited admission to all Xcaret parks as well as transportation. You will have great adventures, fall in love with their culture, and build memories that will last a lifetime.
What Makes Hotel Xcaret All-Inclusive The Best Vacation Option?
Hotel Xcaret Mexico has an innovative all-inclusive, cutting-edge concept in terms of all-inclusive. Basically, the price includes a lot more fun. Those looking for unique experiences while staying in a luxurious hotel will be satisfied by this one. 
Take advantage for a limited time and receive up to 24 % off at  Hotel Xcaret Mexico discounts on your next vacation!
Hotel Xcaret Arte is more than just a place to unwind; it is a tribute to Mexico, a comfortable and luxurious resort with everything you need. Furthermore, the architecture is one-of-a-kind, with an eco-integrative design.
 You'll be surprised to discover the perfect balance of ethics and aesthetics, as well as a wide variety of Instagram-friendly locations for taking perfect photos. You and your partner or family will have full access to parks and tours, fun experiences, and activities while staying here. You get transportation between parks as well as to and from the airport, in addition to free food and beverages.
The luxurious architecture complements the exterior environment, which incorporates many green spaces and natural elements. The all-inclusive Hotel Xcaret Vacation values nature while combining fun activities with relaxation, the best culinary experience, and a cosmopolitan spirit.
How Far Is The Xcaret Hotel From The Airport?
If you are flying in, it will take approximately 1 hour and 15 minutes to get from the airport to the hotel. Once you arrive in Mexico paradise, the hotel will provide you with a free shuttle getting to the hotel and also back to the air.
What Exactly Is Included?
Hotel Xcaret Mexico is a more cosmopolitan resort with a unique concept compared to other all-inclusive hotels. As a result, if you're visiting Riviera Maya and looking for a place to stay that also includes full access to tours and parks, the all-inclusive Hotel Xcaret vacation is the place to stay.
The following services are included with your stay at Hotel Xcaret Mexico all-inclusive:
Outstanding Gastronomic Experience
Its millennial ingredients nourished Mexico's cultural identity while also providing the world with products that are now an important part of the history of other countries. The culinary journey of Hotel Xcaret México enhances Mexican gastronomy, which has been designated as Intangible Cultural Heritage by the United Nations Educational, Scientific, and Cultural Organization and embraces other flavors from around the world to provide you with a memorable sensory experience.
With 12 restaurants, Hotel Xcaret Mexico provides its visitors with an excellent gastronomic experience. You have a one-of-a-kind opportunity to taste some of Chef Carlos Gaytán's signature dishes, as he was the first Mexican chef to receive a Michelin star.
Alcoholic/ Non Alcoholic Drinks
Hotel Xcaret Mexico offers more than 8 bars to choose from, which you'll find at the restaurants, pool bar, swim up bar, lobby area, wellness and spa bar just to name a few. One that you will truly enjoy is the magical fusion of liqueurs and spirits while swimming in the pool with a breathtaking view of the Caribbean. 
If you're into drinking, one that you might enjoy is Cantina Los Faroles, which takes you back in time by bringing back deeply ingrained Mexican traditions with mezcal and tequila tastings. It's the ideal setting for after-dinner drinks while listening to live Mexican folk music.
Kayaking and Paddle Boarding
Xcaret Park in Mexico is located in a beautiful area with caves and rivers where you can participate in a variety of exciting activities. Kayaking, paddle boarding, and other water sports are just a few examples.
Full Access to Natural Parks
Hotel Xcaret Mexico offers a vast array of fun activities, transportation, and access to a variety of Group Xcaret parks, including Xplor Fuego, Xplor, Xcaret, Xenses, Xavage, and others. You can go on tours to Xenotes, Xichen, Coba, and Tulum. They also provide a meal according to attraction.
One thing that you could rest assured and not have to worry about is hefty transportation fees because you know that could definitely add up. Shuttle service to nature parks and tours are included. They provide shuttle service every 30 minutes from airport to hotel and as well as taking you back to the airport. 
Hotel Xcaret Mexico provides facilities for any type of event which includes business meetings, conferences, conventions, banquets or any other event that you could think of. This hotel is ideal for a ceremony reception, a one-of-a-kind wedding, or a baptism party. The rustic-chapel has a one-of-a-kind architecture, built on a circular pyramid with a stunning view of the Mexican Caribbean. In addition, they have private indoor or outdoor weddings/parties that you want to celebrate with your close friends and family members. 
Things To Do At Hotel Xcaret Mexico All-Inclusive Fun
Of course, It would be unfortunate not to take advantage of all the fun activities available while staying at the all-inclusive Hotel Xcaret Vacation. These are the top picks are as follows: 
Explore the property at your leisure 
The Hotel Xcaret property is a true theme park in and of itself. You'll feel like you're in a jungle, with coves, winding rivers, and other tropical surprises all around you. Pick up a map and explore the Catholic Church, the waterslides, or simply take a long walk through the jungle paths. 
Explore the lagoons and rivers that surround the property 
Do you enjoy going on nature hikes? Allow yourself some time to explore the lagoon and relax in the beach hammocks if you want to have an authentic beach experience. This side of the beach, unlike many others, is semi-private, quiet, and rocky. 
Take advantage of the benefits of your cool wristband
You must use the magical wristband once you have obtained it. You can take free photos at the photo stations located throughout the hotel, visit the spa, eat at the snack bar or at local restaurants, and much more. 
The entertaining activities 
Hotel Xcaret Mexico provides not only free food, drinks, and spa access, but also a variety of excursions in their 9 natural parks. Make an effort to visit at least some of them. 
Enjoy the most delicious meals of your life. 
You have a lot of options when it comes to gastronomy. There are ten restaurants, eight bars, and a full room service menu to enjoy while staying indoors. Enjoy the authentic flavor of Mexican food, as well as the beautiful, colorful plates, beef tacos, and, Mexican coffee.
For a limited time only, save up to 24% off at Hotel Xcaret Mexico discounts now!
All- Inclusive Xcaret Fun Parks
Enjoy the opportunity to visit the 8 natural parks in Cancun and Riviera Maya once you arrive at Hotel Xcaret and enjoy the Mexican Caribbean experience. Staying at Hotel Xcaret allows you to explore the resort's natural parks' underground worlds and jungle trails. Here's a quick rundown of each of these parks:
Nature, gastronomy, archaeology, and spectacular traditions all come together to celebrate life in this country's most iconic family park. Coming to Xcaret means experiencing over 50 incredible attractions, including underground rivers, a Coral Reef Aquarium, and an immersive aviary. You can also take a Mexican cruise and learn more about the Mayan civilization while you're there.
You can also enjoy Mexican cuisine and learn more about the Mayan civilization up close at the ancient Pole archaeological site, as well as during special events such as the Sacred Mayan Journey, which take place at various times of the year. 
Xel-Há is a breathtaking natural park that offers everything from fun, snorkeling, food, relaxation, nature, and world-class service.
Walk or ride your bike through the jungle trails of this Mexican natural wonder. Spend the entire day snorkeling in the cove and the river, as well as admiring the view from the Scenic Lighthouse before descending into a natural pool.
Both children and adults will be able to participate in zip-line activities, swim among various fish species, and cross a fun floating bridge. You will also be able to eat as much food and drink as you want during your visit.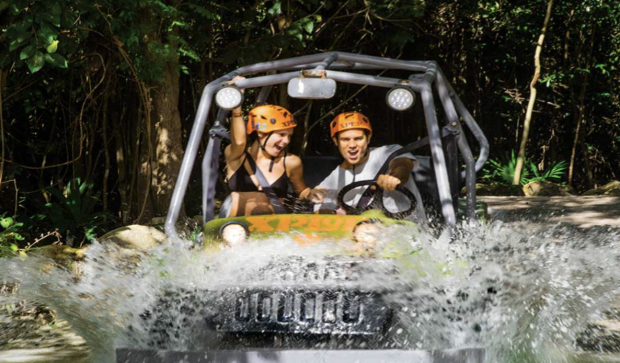 They say that adventures live on in our memories forever, and Xplor allows us to have many of them. Among them are zip lines, amphibious vehicles, swimming in underground rivers, a hammock splash, and rafts. Experience extreme adventures that will put your adventurous and exploratory spirit to the test.
This exciting park, immersed in the lush Mayan jungle, provides a bunch of activities, including the thrill of flying among the trees on the Riviera Maya's highest zip-lines, driving amphibious vehicles through the waters and dry land, and as well as touring refreshing underground rivers through stalactite caves. During your visit, you can also enjoy juices and unique nutritious smoothies, as well as an exquisite buffet.
Whether you prefer high-intensity activities or something more relaxing, Xavage has something for you. Enjoy an exciting kayak ride before taking on the challenges of a fun ropes course suspended in the air. 
You can also choose from four adrenaline-pumping activities: driving an off-road vehicle through an exciting obstacle course, enjoying the speed of an unpredictable jet boat ride, flying horizontally on a zip-line, or taming the waters of the Riviera Maya's only rapids. For the young ones, Xavage has a special section where they can discover their own adventurous side.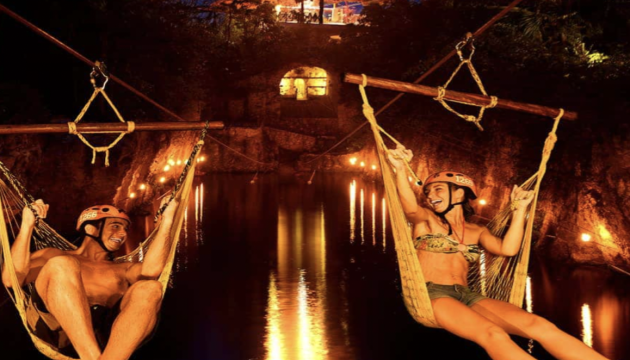 Enjoy exciting activities at the Riviera Maya's only nighttime park. Feel the rush of adrenaline as you journey through the jungle and into the ancient underground world. Drive amphibious vehicles through torch-lit paths, paddle with your own hands along "lava" rivers, and fly above the trees in the middle of the night on the Riviera Maya's highest zip-lines. Finally, you can treat yourself to a delicious BBQ ribs buffet, fresh flavored waters, or simply relax in front of the campfire.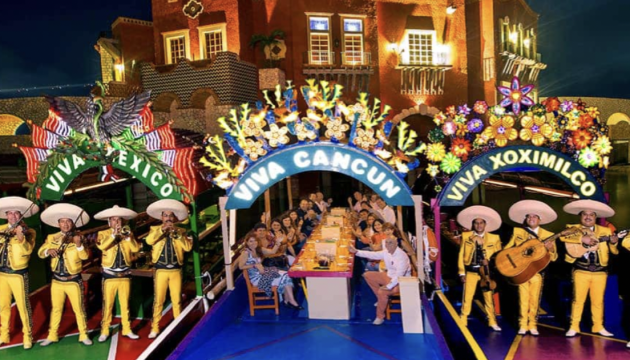 Enjoy a Mexican fiesta on a traditional gondola through jungle canals, while dancing and singing to live mariachi music and other musical groups and you sail away. Throughout your tour, you can enjoy an open beer and tequila bar, as well as water or soft drinks. 
Enjoy a sampling dinner of traditional Mexican dishes and a lot of fun with folkloric Mexican games. You could either relax and enjoy the scenery or participate with everyone that's there. You will definitely enjoy yourself, meeting new people, learning about them and having a great time. 
This half-day park offers one-of-a-kind sensory experiences along two circuits with aquatic, terrestrial, and aerial activities, as well as more than 50 fantastic illusory scenarios. Walk through the Xensatorium, which will take you through various ecosystems in complete darkness. Cross the enigmatic Town, which will put your balance to the test. Get your adrenaline pumping at Bird Flight, and relax at Riverlaxing, Sludgerie, and the Spa.
Xenotes Enigmatic Waters Tour
Take an exclusive tour to the various types of cenotes that exist, immersed in the jungle of the Riviera Maya, where you will learn the legends and mysticism hidden by each of them and have the opportunity to truly connect with nature in an energizing way.
You can go rappelling, kayaking, and swimming with a guide, as well as flying on zip-lines over sacred waters and landing in them. Before the end of your tour, you'll enjoy a luxury picnic in the middle of the jungle, complete with wine and beer, while relaxing in the midst of nature's majesty.
Enjoy your stay and save up to 24% off at Hotel Xcaret Mexico discounts!
Xcaret Xailing's modern vessels will take you to the spectacular beauty of Isla Mujeres. Spend the day exploring the best spots and beaches on this small island off the coast of Cancun. In addition to the round-trip ticket, you will have access to the Cancun Scenic Tower, which will provide you with a breathtaking view of the Caribbean Sea. 
In addition, transportation to the Embarcadero Isla Mujeres por Xcaret in Cancun's Hotel Zone is included. Enjoy and spend unforgettable moments aboard modern catamarans, which include snorkeling tours, and have a great time at an island beach club. You will be able to visit downtown Isla Mujeres and eat a delicious buffet lunch.
In a Nutshell….
An all-inclusive Hotel Xcaret Vacation allows you to immerse yourself in Mexican culture in a relaxed, authentic, luxurious, and dreamy setting. Just come out here, and make beautiful memories with your family or partner.
Get Your Hotel Xcaret Promo Code!
If it's your first time visiting a Hotel Xcaret resort we'll get you a 24% discount off the total price.
Important Information: In order to get this discount, you have to be referred by a member(which we are), since only members are allowed to give the 24% discount rate to friends and family.(Terms & Conditions)
Not valid for a major holiday & festive weekend!
President's Day Week Feb 17 – 25th
Spring Break March 31 – April 15th
Summer Break Jul 21 – Aug 5th
Thanksgiving Week Nov 18 – 25th
Christmas & New Year's Weeks Dec 24, 2023 – Jan 01, 2024
Hotel Discounts & Big Savings Around The World!
We've partnered with Priceline in order to bring you the best prices for hotels around the world. Check out what hotel offers we have available!